Standard conveyor models:



ST :

Single Tier

STE :

Single Tier "E" shape

DT :

Double Tier

SDT :

Single and Double Tier

"V" :

"V" shape

UD :

Up and Down

DTUD : Double Tier - Up and Down
UDC :

Up & Down, Custom shape

Prefabricated, modular, custom design allows maximizing your storage area

All parts are made of steel, most components are hardened for wear resistance

Equipped with Dust Shields to prevent debris from depositing on Garments

Reversible-hand switch or Auto Retriever

Up-to 110 lbs /foot carrying capacity.

10 slots still stamped custom storage racks

Safety cover is included for all drive units.

Telescopic take-up unit for easy chain tension adjusting.
Powered by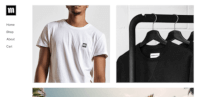 Create your own unique website with customizable templates.