AUPS ENCLOSED-TRACK CONVEYORS ARE SUITABLE FOR MANY INDUSTRIES

Track load capacity: 110 lbs/foot

Our overhead chain can follow almost any desired path, in vertical and horizontal directions. Keep in mind that the chain can be readily re-routed for utilization of the return chain strand. Chain speeds vary with each application and can range from a few inches to 80 feet per minute.

Our experience has indicated that the majority of process conveyors such as spray painting or dipping run at speeds below 10 F.P.M., while transport conveyors are usually run at speeds of between 20 and 50 F.P.M. A speed of 30 F.P.M. allows easy loading and unloading. All AUPS CONVEYORS systems are equipped with take-up units, which maintain a constant pull throughout the system and thereby ensure a free flow of chain. Where the capacity of a single drive is exceeded, multiple drives are spaced through the system to accommodate the increased loading.
Powered by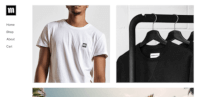 Create your own unique website with customizable templates.