SEMI/ FULLY AUTOMATED, ENCLOSED-TRACK SYSTEM
Track load capacity: 110 lbs./foot (for 3 bags per rack)

Rising population of inmates increased the demand for more efficient reliable

inmate property bag

conveyor systems in correctional facilities where the space is very valuable. AUPS Conveyor offers safer, modular and stronger conveyor system for storage and retrieval of inmate property bags.

AUPS Conveyor differ from the common, dry cleaner type property conveyors. Our enclosed track conveyor system with track load capacity of 110 lbs /foot exceeds the expectations. Made of all steel, hardened chain/ curves. No exposed sprockets and yokes require.
ST model: Single Tier Conveyor

Standard, one level storage for all size bags.
All conveyor models equipped with dust shields above the hangers to prevent dirt and debris depositing on bags.

AUPS enclosed-track conveyors require no sprockets or yokes, enabling us to design any configurations as required.

Securely stored bags can be retrieved by the shortest route automatically by swiping ID card or enter tag number.


UD model: Up/Down Conveyor

Utilize the valuable ceiling space with this unique design to save floor space for Property bag/ Uniform Storage. Floor or ceiling supported.

The system can be designed for multiple inclines if required.

AUPS Enclosed-track conveyor is built stronger than the conventional dry cleaner type conveyors. It can handle long runs (up to 600 feet) with one drive unit. Second drive unit is required for longer systems.
DT model, Double Tier Conveyor



Double Tier conveyor, maximizes storage capacity in small rooms. Each level can be custom constructed for longer bags.

110 lbs./foot load capacity of our Enclosed-track conveyor system allows hanging 3 bags on top plus 3 bags on the lower rack (1') below. The weight of all 6 bags is about 90 lbs., which is higher than the load capacity of competition's double yoke system. Our conveyors designed for long runs and provide years of trouble-free, low maintenance operation for inmate bag storage.

SDT model, Single & Double Tier easily. Some sections of lower DT racks can be easily taken away to combine longer and short bags on the same conveyor.


---
WHY AUPS CONVEYOR IS THE ULTIMATE CHOICE AROUND THE WORLD !
AUPS conveyors are more modular and stronger than conventional storage conveyors, follow virtually any path to suit your layout.
Bolt together construction allows us to design many configurations to fit in your space.
No large sprockets/guides, exposed yokes used for our Enclosed-track Conveyor systems, which enables safer, quieter and cleaner operation
Discrete appearance, high-quality, low-maintenance system.
All parts are made of hard steel and zinc plated. Corrosion free.
Modular: 30˚, 45˚, 60˚ or custom size curves horizontal or vertical at any required degree. All tracks are pre-flanged for bolt together assembly on site.
Very durable: Load capacity; 110 lb. /foot. One drive operates up-to 600' chain.
---
---
Hidden danger on other common conveyor design !

Hazardous ! Unsafe, exposed sprockets and chain are easily accessible by hands when they are moving.
​
Powered by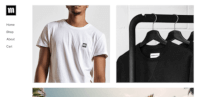 Create your own unique website with customizable templates.